The RLN4008B Parts List

Reference Symbol

Description

CAPACITOR
C1, C3, C4
10uF 25V
C2
1uF 50V
C5
220pF
DIODE
CR1, CR2, CR7 thru CR10
1N4001
CR3 thru CR6
Zener 7.5V , 1/2W
DS1
LED red , low current
JACK
J1
Receptacle Power
P2
25 Position Male "D"
P4
15 Position Male "D"
TRANSISTOR
Q1 thru Q3, Q5, Q7
NPN 2N3904
Q4, Q6
PNP 2N3906
RESISTOR
R1, R3, R4, R7, R9, R10,
4k7 1/4W
R12, R13, R15, R16, R17
4k7 1/4W
R2, R8
20k 1/4W
R5
3k 1/4W
R6
1k5 1/4W
R11, R14
2k 1/4W
R18
3k9 1/4W
SWITCH
SW1
Toggle, SPST
IC
U001
78L05 Voltage Reg.
U002
ICL7660 Inverter
U003
CA3140E
OTHER
BT1
Battery 9V
HARDWARE
PCB Mounting
7 mm Round Spacer 4 pcs
Screw , PCB to Spacer
M3 x 4 4 pcs
Screw , Chassis to Spacer
M3 x 6 4 pcs
Plastic Chassis
W75 x L103 ( min. inside dim.)
A modification you may be interested in for the RIB. There have been reports of problems using the RIB on different computers. It looks like one of the problems might be a lack of negative voltage swing on the Busy out and RX (data out) lines back to the computer. You might want to try and change the value of R14 to 1.5k and R11 to 1K.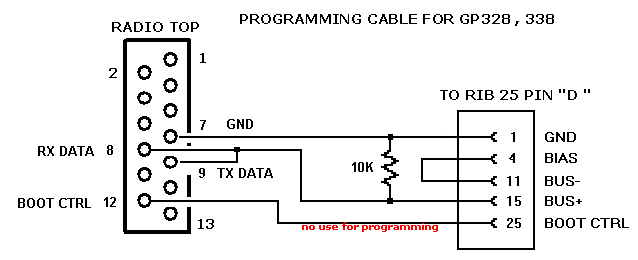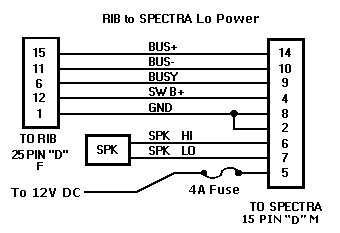 Useful Link : http://www.batlabs.com/2wayrib.html
---
** click image to enlarge **
Final Release
The PCB size is 75 mm x 103 mm. Single sided , which is suitable for homebrew.
On board 9 volt battery compartment and DC Power Jack are provided.
The RIB card is used to connect up most later model Motorola Radios to the PC for programming.
The Connection from the PC's COM port uses a DB9 / DB25 Connector to DB15 on RIB card.
The output from the card can go to any standard motorola DB25 Cable that support this interface connector.

If you want to built the RIB with this PCB , take your own risk .